[PST Home] - [PST4 Info] - [Pictures] - [Video Demos] - [Manual] - [Applications] - [User Comments] - [Contact]
---
Precision Strobe Tuners
---
Precision Strobe Tuner App
For iPhone and iPod
[PST App Details]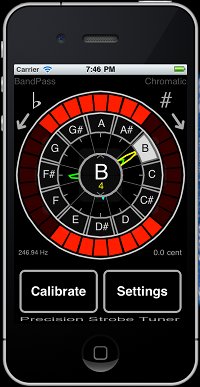 Now Available From The Apple App Store
---
PST-4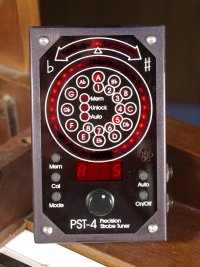 The Precision Strobe Tuner is a musical instrument tuning aid for technicians and musicians. It combines the principle of the mechanical strobe tuner with solid state electronics, providing a tuning aid which is highly accurate, compact, and easy to use. Advanced signal processing technology is used to provide a clear display right from the attack under all tuning conditions, even down to the lowest note on the piano.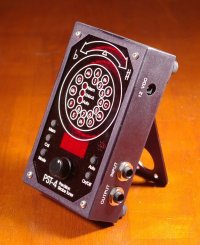 PST-4 Features:
- True Strobe Tuning Accuracy and Speed.
- Coarse Tuning Indicator to Get Within Range of Strobe Operation.
- Automatic Note Tracking Mode.
- Built in Microphone.
- Input Jack for Direct Instrument Input or External Mic.
- Output Jack, Reference Pitch Output or Thru Signal Function.
- Digital Filtering Modes for Stable Display from Note Attack.
- 40 Programmable Memory Banks for Piano Stretch Tuning or Alternate Temperamants.
- External Wall Transformer or Battery Operation (6 AA Cells).
- Built in NiMH Battery Charger.
- Compact Size, 3.5 x 5.6 x 1.8 inches (Excluding Knob).
- Black Anodized Aluminum Housing.
- Fully Adjustable Back Stand/Hanger.

Additional Information:
PST4 Information
Pictures
Video Demos
Operation Manual and Specifications
Application Information
User Comments

Direct Price:
$490

To Order:
Call




The PST is a True Strobe Tuner.
---
[PST Home] - [PST Info] - [Pictures] - [Video Demos] - [Manual] - [Applications] - [User Comments] - [Contact] - [JC Home]
---